Taiwan-based PC Desk Makers Do Well Despite Global Downturn
---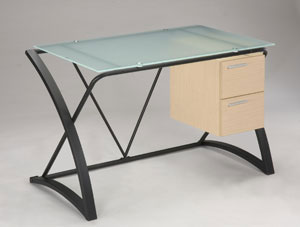 Ho Shuan upgrades its traditional PC desks into work stations and study carrels.
As in many other export segments, the emerging market rivals from China and Vietnam have been over the past 20 years encroaching the market shares commanded by Taiwan-based suppliers of furniture. Besides moving offshore to reduce cost, integrating resources in Taiwan to achieve synergy, and sharpening designs to target upmarket clients for higher margins, Taiwan furniture makers have reportedly carved out niches to survive amid the rising competition as well as global downturn, specifically in middle-to-high-end plastic, OA (office automation) and metal furniture.

Taiwan-based exporters of the above-mentioned products are doing encouragingly well as significant global suppliers. The statistics compiled by the Taiwan Customs show that the island's exports of OA metal and other metal furniture came to around NT$12.655 billion (US$372 million at US$1: NT$34) in 2008, rising slightly 1.16% from NT$12.51 billion (US$368 million) posted a year earlier, of which OA metal furniture contributed NT$2.47 billion (US$72.6 million), helping to drive the growth. Clearly the Taiwan-based exporters, based on such statistics, of OA metal furniture have reason to be hopeful, for they can actually post export growth amid the global recession, proving their competitiveness in the world market.

One can argue that the rising export of OA metal furniture made by Taiwanese suppliers has been partly driven by the continuing popularization of PCs worldwide, with the PC desk being a star performer in the segment. For a first-hand look at the supply and export of PC desks out of Taiwan, two seasoned makers and a newcomer were interviewed to talk about their business through the ups and downs over the past few decades, and the onslaught of the worst global economic recession since the end of WWII.

Outdoing Chinese Rivals
One PC desk supplier who has managed to keep ahead in production capability of Chinese counterparts is Ho Shuan Enterprise Co., Ltd., who started out in 1986 in Taichung County, central Taiwan, by processing metal tubing and plates, and then diversified into production of finished furniture.

Ho Shuan presently turns out a variety of items backed by a factory and an R&D office in Taiwan, including study cubicles, work stations (PC desks), TV cabinets, roller shutters, K/D desks and related units, all of which are exported to North America, the Middle East and Latin America, both on an OEM (original equipment manufacturer) and ODM (original design manufacturer) basis.

Having tread the same path as many of its peers in Taiwan, the company, before diversifying into production of finished furniture to achieve higher margins, had relied completely on trading companies for subcontract orders of low-end products for years. Unfortunately, such business model was no longer viable by the 1990s, mainly due to the emergence of Chinese rivals, who quickly gained the upper-hand with relatively lower cost, hence cornering the market for such low-end orders placed by trading companies.

Being outdone by the Chinese, however, didn't discourage the company president Wayne Weng. "We also considered moving to China to tap lower material and labor costs," he said. "But we finally decided to differ from others by staying home, instead, to concentrate our energy on improving production capability to turn out middle-to-high-end products like work stations and study cubicles or carrels, which are more functional and structurally compact than traditional low-end PC desks."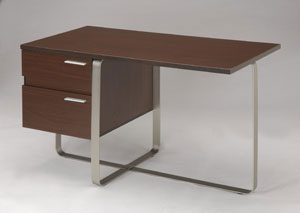 Ho Shuan`s work station features sturdy structure, compactness and material efficiency popular with European buyers.

CNC Machinery
To enhance production efficiency and precision, the company has adopted CNC (computerized numerically controlled) and high precision machinery, and teamed up with a number of upstream and downstream suppliers to assure an integrated supply chain. Meanwhile, the company is inspired by foreign buyers-absorbing their new design concepts and production technologies to move upmarket.

Adopting such strategy has enabled Ho Shuan to independently handle ODM orders for middle-to-high-end work stations, study cubicles and decorative furniture of different materials, featuring easy-to-install structural designs and compactness. Wielding design skills helps the supplier to fend off no-holds-barred competitions, especially when the low-end PC desk segment has been almost monopolized by Chinese makers since the 1990s, Weng noted.

Weng stressed that having structural design expertise coupled with molding skills are pivotal in leaving behind Chinese rivals in the market, mainly because adept molding assures not only functionality of structural design but also enhances production efficiency and flexibility.

"Most Taiwanese suppliers are still ahead of Chinese rivals in being equipped with advanced production tools, ample know-how, and molding capability," he said. "Besides, Chinese rivals have difficulty sourcing quality materials to produce durable metal tubing and plates for work stations and study cubicles." Having such advantages has enabled the company to successfully keep superiority over Chinese competitors for years.

Ho Shuan has also been developing new products, such as AV (audio visual) carts and related school furniture to further carve out niches. The multifunctional AV cart incorporates electronic and AV functions that need different parts and plates for effective configuration. Weng said that such furniture is more structurally complicated than household counterparts, so know-how regarding structural design and mold development is critical. These AV carts have been adopted by a U.S. buyer for use in schools, attesting to the maker's design and production capability.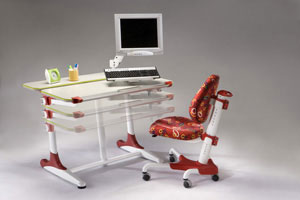 Kuang Shin taps 22-year experience in OA parts to develop Paris-series Desk.

Suitable for Users of All Ages
Despite being a seeming newcomer, Kuang Shin Enterprise Co., Ltd., founded in 2009, draws on 22 years of experience as a maker of parts for OA furniture. The maker has created a multifunctional desk for both children and adults as a trump card to get ahead in the PC desk segment.

The Paris-series Desk, a multifunctional PC desk debuted at an exhibition in Malaysia this March, has caught intense attention of foreign buyers, who are impressed by its ingenious safety, convenience, functionality and innovations.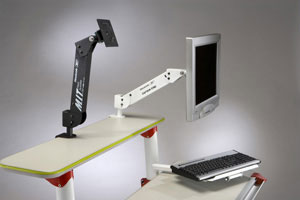 Kuang Shin`s Paris-series Desk, featuring a swing arm and multi-functionality for children and adults.

Chiu Tse-lien, general manager of Kuang Shin, said that the Paris-series desk took two years of development, fine-tuning and production. Besides featuring stylish, streamlined exterior, compactness and lightweight, the desk is most notable for its easy adjustability of the desktop. "The desk allows users to easily adjust the height of the desktop by pressing the center, or its angle with the one-touch lever," he said. "Besides, the desktop can carry the weight of an adult, so its heavy-duty structure prevents tilting to offer excellent safety."

Another innovation is the multipurpose swing arm, which is rotatable and can be attached with all kinds of LCD monitors and other objects. Besides, the arm has a special, integrated auto-locking mechanism. "The auto-locking function enables the arm to be easily height adjusted, and the mass of an attached object automatically locks it," Chiu said. "Protected by multinational patents, the mechanism makes the arm more functional and convenient to use than competing models."

The Paris desk is also a green product, developed in line with the growing awareness for earth-friendly concepts. Being RoHS-compliant means it is made without lead and hazardous materials. Its excellent structural design ensures a long service life, which is SGS certified, according to Chiu.

"The Paris-series desk reflects our R&D capability and 22-year expertise in OA furniture," Chiu said. "And its adjustability makes the product quite suitable for both children and adults."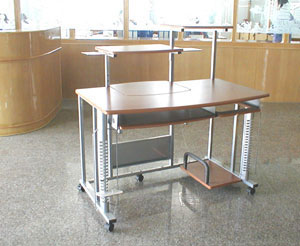 Cheng Chieh specializes in production of metal furniture.

Steady and Slow
In the face of increasingly tough challenges in the global market for PC desks over the past decade, Cheng Chieh Metallic Co., Ltd. believes "Steady and slow wins the race," a motto the maker adheres to in its core business of making metal furniture with unbeatable quality and reasonable prices.

Established in 1991 in Changhua County, Cheng Chieh has been producing metal furniture and related accessories, covering a vast range including K/D furniture, dinettes, desks, PC desks, display shelves, living-room sets, coffee tables, TV cabinets, organizer racks, beds, closets, coat stands, mirrors, bathroom racks etc. Nearly exporting its total output, the maker ships around 30% each of its production to the U.K. and the U.S. Backed by the enormous 60,000-square-meter plant in China, the maker is a well-known, trustworthy OEM.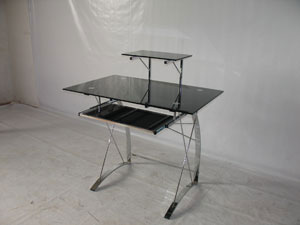 Cheng Chieh`s PC desks are well received in America and Europe.

Annually shipping around 100,000 PC desks on average in the past years, Cheng Chieh has built a solid reputation in the segment. Wendy, general manager of the company, indicated that her company mainly develops K/D models, which all feature easy installation, fine quality and reasonable prices, very popular in the middle-to-high-end segment. "We have completely shut down low-end production in the 1990s seeing that Chinese makers are sure to monopolize the segment with extremely low product prices," she said.

"We concentrate on mold development capability and upgrading production lines with semi-automation in house," Wendy said. "Plus, we do our best to carry out quality inspections throughout production to stay ahead of Chinese rivals." Years of conscientiousness has seen the company earn considerable recognition in the line, with its shipments PC desks and LCD TV cabinets still growing in the recent years.

Being true to its motto to win via steady, sure progress has enabled Cheng Chieh to not only weather the current downturn but to survive in good shape. And being earthy, low-key, reliable makes this furniture maker confident and ready for further growth.