Kuang Shin Enterprise Co., Ltd.--Children furniture, computer desks, OA chairs, and display racks
---
With over 20 years of experience in manufacturing OA furniture parts, Kuang Shin Enterprise Co., Ltd. has in recent years expanded its production lines to include children's furniture.
Since entering the kid's furniture field, the company has been dedicated to R & D of high-end furniture items for young children and adolescents. "We are very careful in our choice of designs and materials for children's furniture. Whenever we develop a new item, we take into consideration convenience, comfort, and safety," a company's senior official says. "So far our products have been patented in Taiwan, China, the United States, and Germany."
The company recently developed a stylish, adjustable and multifunctional desk designed for kids of the Internet generation. The desk can be adjusted up and down and can be lowered to a level even for toddlers three years old. The desk has a writing board that can be separated into two pieces. The upper part of the board can serve as a reading rack or easel and the lower part can double as a computer or keyboard holder.
"In addition to innovation and multifunctionality, we prioritize safety in our children's furniture," the official emphasizes. "Children are active and restless, so we develop furniture that is safe for them to use."
Since green products are gaining popularity around the world, Kuang Shin follows the trend by using recyclable non-toxic materials and changeable parts to develop eco-friendly green furniture.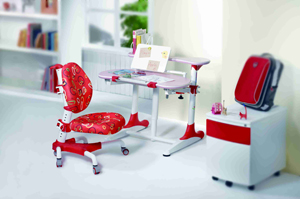 In addition to kid's furniture, the company also makes computer desks, OA chairs, row seating, chair mechanisms, and display racks. Besides selling to the domestic market, it is actively developing sales to Europe, Japan and the U.S. and will further explore the export outlets in the developing countries.

Kuang Shin Enterprise Co., Ltd.
No. 63, Lane 102, Changshui Rd. Sec. 2, Hsiushui Township, Changhua County, Taiwan 504
Tel: 886-4-769-1028
Fax: 886-4-768-2709
E-mail: Kuang.shin@msa.hinet.net
Website: www.kuangshin.com